| | |
| --- | --- |
| | پاك وبێگەردی بۆتۆ ئەی خوای خاوەن دەسەڵات ئەی خاوەنی میهر! هەردەم قورئانەكەی تۆ دەستپێشكەر بووە لە باسكردنی دۆزینەوەی زانستيه نوێیەكان، ئەمەش.... |
پاك وبێگەردی بۆتۆ ئەی خوای خاوەن دەسەڵات ئەی خاوەنی میهر! هەردەم قورئانەكەی تۆ دەستپێشكەر بووە لە باسكردنی دۆزینەوەی زانستيه نوێیەكان، ئەمەش ...  گەورەیی قورئانەكەی تۆ دەردەخات، چۆن وانەبێت كە خۆت فەرمووتە: [ما فرَّطنا في الكتاب من شيء]...
ڕاستیە زانستیيە نوێیەكانی بونەوەر:
بەپێ‌ی تازەترین بیردۆزە زانایان دەڵێن: تەمەنی بونەوەر 13.7 بلیۆن ساڵه، سەرەتای دروست بونی بونەوەر بە تەقینەوەیەكی مەزن دەستی پێكرد، پاشان ئەستێرە و گەلەئەستێرەكان دەستیان بە پێكهاتن كردووە، بەڵام لەلای زاناكان دەركیان بەبونی گرفتێك كرد،  دەبوو تەقینەوە مەزنەكە بونەوەر ڕوناك بكاتەوە و پاشان بەدوایدا بونەوەر بەردەوام بەرەو ڕووناك بوونەوە بچێت, بەڵام دۆزینەوە نوێیەكان ئەوەیان دەرخست كە بونەوەر لەسەرەتادا بە چەند چاخێكی تاریكیدا تێپەڕ بووە كە ملیۆنان ساڵی خایاندووە! دوای ئەوە ئەستێرەكان و گەلەستێرەكان دەستیان بە دروست بوون كردووە كە بۆتە هۆی كۆتایی هێنانی چاخی تاریكی و دەستپێكردنی چاخی ڕوناكی.
زانایان باس لە دۆزینەوەی گەلەئەستێرەیەك دەكەن كه 13 بلیۆن ساڵ لە ئێمەوە دوورە، كە بە دورترین تەن دادەنرێت لە زەویەوە و تیشكەكەی لاوازە و تەنها بە هۆكارە زۆر پێشكەوتوەكان نەبێت نابینرێت، تیمێك لە زانایانی زانكۆی كالیفۆرنیا دەڵێن كە توانیویانە زانیاری لەسەر ئەم گەلەئەستێرەیە بەهۆی پێگەی گەردونی"ی Keck II  كۆبكەنەوە كە لەسەر لوتكەی یەكێك لە گركانە دامركاوەكان دانراوە.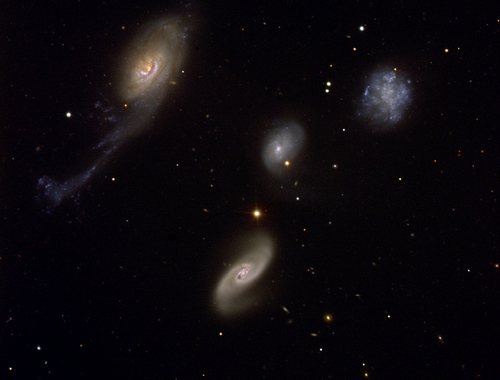 (فراوانی بونەوەر بەجۆرێكە تەنها خوای گەورە سنورەكەی دەزانێت، تەلیسكۆبە گەردونیەكان لەم دوواییانەدا گەلەئەستێرەیەكیان دۆزیەوە 13 هەزار ملیۆن ساڵی ڕوناكی لێمانەوە دوورە، دەڵێن ئەم دۆزینەوەیە یارمەتیمان دەدات لەپێدانی وێنەیەكی ڕوون تر لەسەر چەرخە تاریكەكان كە چۆن بۆ ماوەیەكی زۆرو بەر لە دروست بوونی ڕوناكی لە سەرەتادا بونەوەری داپۆشیوە ).
زانایان ئەوەیان ڕوون كردەوە كە توانیویانە لە رێگای گەورە كردنی تەلیسكۆبی گەردونیەوە ئەو تیشكانە ببینن كە لە گەلەئەستێرەكانەوە دەردەچێت كە دروست بوونيان دەگەڕێتەوە بۆ 13 بلیۆن ساڵ لەمەوبەر، ئەمەش كاتێًك كە تەمەنی گەردوون 550 ملیۆن ساڵ بوو، وە بونەوەر بە چاخی تاریكیدا تێپەڕ دەبو.
زانایانی گەردوون باسی ئەم دۆزینەوەیەمان بۆدەكەن كە توانیویانە هاوێنەی كێشكەر(عدسات جاذبة) بەكاربهێنن، ئەوان ڕووناكی گەلەئەستێرە نزیكەكان وەك هاوێنە بۆ گەورە كردنی ڕوناكی دەرچوی ئەستێرە شاراوەكان  بەكاردەهێنن  .
ڕاستیەكى زانستیى سەلمێنراو:
بونەوەر بە سەردەمانێكی تاریكی دەستی پێكردوە كە ملیۆنان ساڵی خایاندووە، پاشان ئەستێرەكان دەستیان بە پێكهاتن وپەخشی ڕوناكی كردووە، ئەمەش ئەوە دەگەیەنێت كە تاریكى یەكەم جار دروست بووە و دواتریش ڕووناكی.
ڕاستیە قورئانیەكان :
یەكێك لەبابەتە سەرنج راكێشەكانی قورئان ئەوەیە كاتێك باسی لەسەرەتاكانی دروست بونی گەردوون كردووە، دروست بوونی تاریكی پێش دروست بوونی ڕووناكی خستووە !، وەك دەفەرموێت (الْحَمْدُ لِلَّهِ الَّذِي خَلَقَ السَّمَاوَاتِ وَالْأَرْضَ وَجَعَلَ الظُّلُمَاتِ وَالنُّورَ ثُمَّ الَّذِينَ كَفَرُوا بِرَبِّهِمْ يَعْدِلُونَ) [الأنعام: 1]: ئەگەر سەرنجی هەموو ئایەتەكانی قورئان بدەین بەتایبەت ئەوانەی باس لەسەرەتای دروستبوونى گەردوون دەكەن بۆمان دەردەكەوێت، كە خوای گەورە هەردەم باسی تاریكی دەكات بەر لەوەی ڕوناكی باس بكات.
ڕووی ئیعجار:
لێرەوه ڕوویەكی ئیعجازيي ئەم ئایەتەمان بۆ دەردەكەوێت، سەرەتا خوای گەورە باس لە گەورەیی ودەسەلاتی خۆی دەكات، چونكە ئاسمانەكان وزەوی خوڵقاندووە (الْحَمْدُ لِلَّهِ الَّذِي خَلَقَ السَّمَاوَاتِ وَالْأَرْضَ)پاشان لەوە دڵنیامان دەكاتەوە كە بەتەنها خۆی دروستكەری ئاسمانەكان وزەویە، پاشان ڕاستیەكی ترمان تێدەگەیەنێت كە یەكەمجار تاریكی دروست كردووە, پاشان ڕوناكی (وَجَعَلَ الظُّلُمَاتِ وَالنُّورَ)، لەگەڵ ئەوەشدا بێباوەڕان هاوەڵ بۆ خوا بریار دەدەن و ئینكاری نیعمەتەكانیی دەكەن (ثُمَّ الَّذِينَ كَفَرُوا بِرَبِّهِمْ يَعْدِلُونَ).
ئەمەش ئەوە دەگەیەنێت كه قورئان وردەكاری زۆری تێدا كراوە هەر له ڕێكخستنی ووشەكانیدا و پاشان لەدەربریندا، سەرنجى ئایەتەكە بدەن قورئان نەیفەرمووە (خلق الظلمات والنور) بەڵكو فەرمویەتی (وَجَعَلَ الظُّلُمَاتِ وَالنُّورَ)، چونكە تاریكی و ڕوناكی ئەنجامی دروستبوونی ئاسمانەكان وزەویيە، پاشان خوای موتەعال كەرەسەكانی ئاسمان و زەوی خوڵقاندووە، دوای ئەم تەنانە بەچەند چاخێكی تاریكیدا تێپەڕبوون و دوای ئەوە ڕوناكیان لێوە دەركەوتووە، دەبێت ئەوەش بڵێین كه (جعل) لێرەدا وشەیەكی گونجاوە لەڕوی زانستیەوە.
هەروەها قورئان بەردەوام باسی تاریكی (الظلمات) بەكۆ بەڵام ڕوناكی(النور) بەتاك دەكات، ئەمەش لەبەر ئەوەی ڕێژەی تاریكی لە بونەوەردا لە 96% زیاترە، واتە زۆرینەی بونەوەر تاریكیە و ئەندازەی ڕوناكی زۆر كەمە، كە ئەمەش ئیعجازێكی ترە.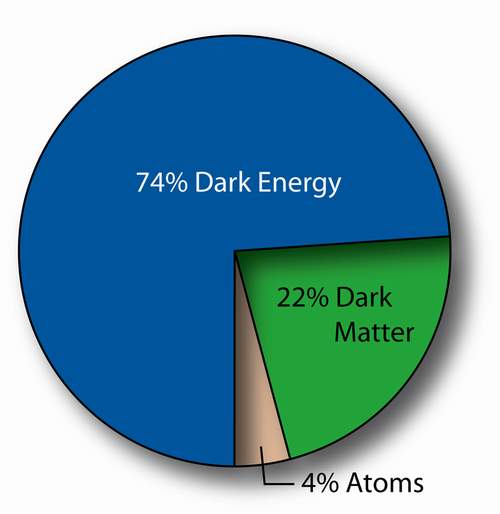 كەواتە ئەم ئایەتەدا (وَجَعَلَ الظُّلُمَاتِ وَالنُّورَ) سێ‌ ئاماژەمان دەست دەكەوێت:
1) ئایەتەكە ئاماژە بە تاریكی وڕوناكی دەكات كە هەردوكیان ئەنجامی دروست بونی ئاسمانەكان و زەوین، ئەمەش لە رووی زانستیەوە ڕاستە.
2) ئایەتەكە ئاماژە بە دروست بونی تاریكی دەكات بەر لە ڕوناكی، زانایان ئەمەش دەسەلمێنن.
3) ئایەتەكە لەو ڕوانگەیەوە ووشەی  (ظلمات) بەكۆ و وشەی (نور) بەتاك باسدەكات، كە تاریكی فراوانتر وگەورەترە لە ڕوناكی، ئەمەش زانایان باسی دەكەن كە زیاتر لە 96% ی بونەوەر تەنی تاریك و وزەی تاریكە!
ئێمەش وەك خوای متعال فەرمویەتی دەڵێین: (وَقُلِ الْحَمْدُ لِلَّهِ سَيُرِيكُمْ آَيَاتِهِ فَتَعْرِفُونَهَا وَمَا رَبُّكَ بِغَافِلٍ عَمَّا تَعْمَلُونَ) [النمل: 93].
---------------------
بە پێنوسی: عبد الدائم الكحيل
سەرچاوەكانی نوسەر:
1- مقالە بعنوان: اكتشاف أبعد مجرە عن كوكب اڵارچ، علی موقع شبكە CNN اڵامریكیە بتاریخ: 16/2/2004.
2- مقالە بعنوان: علما‌و تمكنوا من رصد چو‌و كونی عمره 13 ملیار سنە، علی موقع شبكە CNN اڵامریكیە بتاریخ: 17/7/2007.
سەرچاوەی كتێب:
[1] E Papantonopoulos, The Physics of the Early Universe, Springer,2005.
[2] Matts Roos, Introduction to Cosmology, John Wiley and Sons, 2003.
[3] Michael Rowan-Robinson, Cosmology, Oxford University Press, 1996.
[4] Malcolm S. Longair, The Cosmic Century, Cambridge University Press, 2006.
[5] Klapdor-Kleingrothaus, Dark Matter in Astro- And Particle Physics, Springer, 2003.
[6] The Age of the Universe, Dark Matter, and Structure Formation, Colloquium on the Age of the Universe St, National Academies Press, 1998.