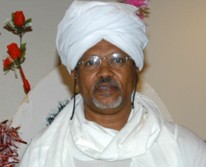 Nationality: Sudanese
Work: Change Management Consultant
Education
Doctorate of Education, Leicester University, UK.
Master of Human Resources Development, Minnesota University, USA
Master of Education (Supervision of International Schools), New Jersey College, USA

 

Certified in Change Management process in accordance with Prosci Methodologies and tools. USA
Certified Internal Quality Auditor (ISO 9001:2000), FAHSS/TUV, Dammam, Saudi Arabia
Certified Human Resource Development Consultant, Minnesota University, USA.
Experience
Translated:
IT material (SAP)

Post-graduate Degree Dissertations

Various articles and short essays
--------------------
Contact:
This e-mail address is being protected from spambots. You need JavaScript enabled to view it