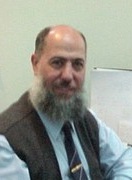 I.  Personal Information:
Name: Dr. Mohammed Said Dabas
Citizenship: U.S.A.
Marital Status:   Married, 3 children
Date of Birth:     June 25, 1947
Education:
1999  Ph.D. Linguistics and Islamic Studies, "A Critical Study of the Translations of the Meaning of Quran into English"
1976  Master of Science in Library Science, Clarion University of Pennsylvania, Clarion, Pennsylvania, USA
1973   Diploma in Secondary Education,  Damascus University, Damascus, Syria
1969   Bachelor of Arts in Arabic Literature (major)– Islamic Studies (minor), Damascus University, Damascus, Syria
II.               Work Experience:
2001-2010
•                 Saudi Telecom Company – Riyadh (STC)
•                 Senior documentation specialist and trainer:
•                 I prepared user manuals, wrote procedures, and prepared and presented various training materials on several subjects.
•                 I trained STC – ADSL technicians on the proper diagnosis, installation and customer satisfaction.
•                 I prepared and presented a course on "Guttural Orientation" for Western technicians' supervisors.
•                 I trained over 500 users on ICMS – Integrated Customer Management System; one the largest, integrated and well-designed customer care, billing and provisioning systems in telecom business widely known and used internationally.
•                 I trained users on the KnowledgeBase database; a wide and comprehensive telecom industry database that deals with all terms, idioms and usages.
•                 I participated in BATs (Business Acceptance Tests) and PAT (Preliminary Acceptance Test) and conducted various tests of new systems and sub-systems.
•                 I participated in the preparation of test scenarios, ESD (External Specification Document).
•                 I participated in the preparation of Modeling Documents for procedures and regulations.
1997-2001
•                 SBM/IBM - SA
•                 Riyadh, Saudi Arabia
•                 Training & Documentation and Arabization Consultant
•                 GSM-Landline TEP6 Project
•                 Senior Documentation and Training Specialist
•                 ICMS – Integrated Customer Management System
•                 As a senior documentation specialist, I carried out, successfully, various complex assignments. I participated in the full Arabization process of one of the most complex, efficient, multi-purpose, multi users automated billing and full customer services systems.
•                 Prepared training material, parameters manuals, trainer's guide, trainee's guide, materials for "Train the Trainers" courses, full-scope project orientation presentations, business procedures and parameters preparation, System Qualification Test scripts and documentation, preparing and participating in PAT Preliminary Acceptance Test and others.
1995-1997
•                 Lucent Technologies International - SA
•                 Riyadh, Saudi Arabia
•                 (AT&T) GSM-TEP6 Project
•                 Senior Trainer-GSM – CABS2000 Billing System
•                 As a senior training specialist, I carried out various complex assignments such as: setting up complete hands on, computer aided environment, recruiting the training candidates from the Customer's staff, offering on-site training courses, participating in training courses organization and implementation, contacting key-people at Customer's various organizations and departments to get approvals for implementation, writing training manuals, preparing training materials and hand-outs, performing training surveys and needs requirements, etc.
1993-1994   Al-Hejailan Group – SAILS Riyadh, Saudi Arabia
I worked as a project manager of a fully automated translation department that consists of twenty translators, 8 editors, 4 graphic designers, and other staff members.  Major responsibilities included, but not limited to, set-up, establishing rules and procedures, project administration, writing job descriptions, interfacing with the clients, work load distribution, follow-up, final product revision, computer network design, set-up and training, production scheduling for delivery and other general responsibilities.
1992-1993   Vinnell Corporation - Saudi Arabian National Guard Modernization Project.        Riyadh, Saudi Arabia
Publication Analyst - LAV (Light Armored Vehicle) .  I supervised a group of eight translators, editors and graphic designers. I worked with military publications of all types.  I evaluated work, distributed assignments, maintained quality assurance.  I prepared manuals for camera ready copy.
Computer Trainer - MISO (Management Information Systems Office) Training on various types of computer software packages, preparing courses for computer literacy training, teaching DOS for Beginners, Introduction to Computers, Quattro Pro, data base courses, graphics courses and network courses. 
1990-1993         JECOR/King Saud University Automation Project, Riyadh, Saudi Arabia. Head of Training/Technical Writing Department
1.                   Training of users on the software developed in-house concerned with Personnel, Payroll, Housing, Research, Registration, Graduation and Certificates.
2.                   Development of Training Courses: Preparation of course outlines, preparations of course work materials, preparation of audio-visual aids for the courses, and hands-on computer training.
3.                   Implementing the use of various software packages, such as Arabic/English Word processing, Spreadsheets, Databases and Graphics.
4.                   Working with both the IBM compatible and Apple environments.
1985-1989      Sysorex International – CUSTOMAT - Riyadh, Saudi Arabia
                                                Head of Training/Technical Writing Department:
1.               Working closely with System programmers, Analysts, client interface on preparing, developing, teaching, evaluating and support for trained individuals.
2.               Developing, teaching and supervising English for Special Purpose Programs.  I have prepared Saudi students to attend course study in the United States in the automation and computer science areas.    
3.               Preparing, developing, organizing and writing Arabic and English manuals for various in-house developed systems, such as the Boycott List, Broker License, Personnel, Payroll and General Inquiry Systems.
1978-1984         Chicago Board of Education, Chicago, Il, U.S.A.
                                                Bilingual Education Teacher of Arabic/English
Free-Lance Writer/Translator/Editor/Consultant working with and for various agencies in the areas of Middle East Business, Library Affairs, Educational Materials, Institutional Translations of Commercial, Technical, Educational, Legal and Literary Work/Export/Import/ Negotiation / Representation / Delegation.
1977-1978         Denoyer-Geppert Company - Chicago, Il, U.S.A.
I worked as a translator/editor of various types of educational materials for use in the Middle East.
1976-1977         Muslim World League/U.N. Office - Chicago, U.S.A.
I worked as an Arabic Teacher, Special Librarian and Community Public Relations Officer.
1973-1974         Arabic Academy of Damascus, Syria
I worked as a member of the Research and Editing Committee for the Reproduction and Restoration of Valuable Historical Manuscripts. 
1969-1973         Ministry of Education, Damascus, Syria
I worked as an Arabic Language Teacher in the Public High Schools of Damascus.
IV. Objectives:
•                 Establish, promote and increase productive, positive, constructive and original work in the various disciplines. 
•                 Organize, support and set forth examples in my field of training and expertise.
•                 Help others grow, devise helpful techniques for an existing system of work.
•                 Work with others in a coherent way and synchronize work with harmony for a better productive team.
V.  Areas of Interest:
•                 Working in the computer/communications Training and Documentation, System Testing, presentation of new software products and Arabization Constancy. Providing know-how technology, setting computerized Technical documentation section. Communicating with the customer, upgrading systems, proposing new hardware and software solutions. Offering an expert advice on suitable training materials and courses, analyzing current training and documentation trends. Recommending the most suitable and applicable one that suits the needs of the customer and most profitable to the organization I work for.
•                 Working in the Public Relations Field: Diagnosis of current communication problems, discussing such problems with clients, and suggesting remedies and solutions for such problematic areas.
•                 Organizing work groups, setting up team-aimed approaches, committees, defining goals and objectives, and assist in implementing helpful work procedures for middle to large-size companies.
•                 Establishing and setting up computer network environments whereas people can easily communicate via electronic mail, exchange of information through electronic files, etc.
•                 Producing itemized reports, studies and evaluation of various projects in different areas.
VI. Publications:
•                 Original Works:        I have written a number of articles that were published in leading newspapers and magazines in the Middle East over the years.
•                 Member of the editorial staff of Saudi Shopper; a recent computer Saudi magazine in Riyadh, Kingdom of Saudi Arabia.
•                 Member of Editorial Committee of Saudi Computer Society. Participating in the process of writing, editing and revision of the articles submitted for publication in SCS magazine and publications.
•                 Translated and reviewed the Arabic Computer Simplified five-book Series, published by Maiman Publishing - 1998-'99 in Kingdom of Saudi Arabia.
•                 I served as Editor-in-Chief for the "Islamic Post", a monthly newsletter for a sizable community in the Chicago area with a circulation over 5,000 catering to a population of over 50,000 Muslims.
•                 "Arabic:  Reading, Writing and Practice", Kazi Publications, Chicago, 1978.
•                 "The Meaning and Significance of Salah "Prayer", Kazi Publications, Chicago, 1979.
Translations:   
•                 A Book of Thanks. AlSayyed Publications – Riyad – 2009
•                 Abridged Biography of Muhammed PBUH, ready for publication.
•                 "Sahih-ul-Kalim-it-Tayib" (It is a Collection of sound statements Hadith of the Prophet, PBUH.), International Islamic Book Publishing, Riyadh, 1992.
•                 "Fiqh-us-Sunna, Vol. 1,2,& 3 (A leading Islamic jurisprudence book), North American Islamic Trust, Indianapolis, 1991.
•                 World Book Encyclopedia, translation into Arabic of selected topics, World Book Publishers, Riyadh, 1993.
•                 "Palestine Between Divine Law and Realism", Nahwi, A.R.A., Ph.D., International Publishing House, Riyadh, 1994.
•                 "Thirty Ways to Get to Jannah", International Publishing House, Riyadh, 1994.
•                 "Essential Rights", al-Othaimin, S.M., International Islamic Book Publishing, Riyadh, 1994.
•                 "Lectures on Clipper", Grumpfish. (Computer technology book), for Dar-ul-Maiman. (3) Volumes.  Published in March-1995.
•                 "Guide to CD-ROM", Parker, D., Starett, R., Translation of Computer technology guide, Dar-ul-Maiman, Riyadh, 1993.
•                 "Riyad-us-Salihin" Nawawi, International House of Ideas – 2006.
•                 "Prophet Muhammad PBUH the Excellent Example", H.E. Shaikh Md. Asad Sagherji. (In the process of translation).
•                 "A Brief Biography of Prophet Muhammad SAAW", Ibn Sayyid-un-Nas, Islamic House of Ideas.
---------------------------        
Contact:
Permanent Address: % 303 Water St. Jamestown, PA 16134, USA
Present Mailing Address: P.O. Box 122 Tayar Agency – Aroba – Riyadh, Saudi Arabia 11536
Tel.: (9661) 465-2597 or 461-5207 Fax/Answering Machine
Email:  This e-mail address is being protected from spambots. You need JavaScript enabled to view it